The Best Indestructible Dog Crate Guide: Best Models Reviewed
The-Hunting-Dog is supported by its audience. We may receive commissions on purchases made from links on our site.
Isn't it too much?
Although most of the dog crates are treated as standard, there are indestructible models. They are different due to obvious reasons. They are stronger and more reliable than most of other, cheaper cages. If your dog is big and muscular, it is possible that he can destroy plastic cage or even bend the bars of a steel crate. These damages are sharp, and therefore dangerous for a dog and you at the same time. Some dogs behave like they were born as escape artists, if that is the case, you will definitely need a crate of this type. It is used to eliminate the risk of escaping while maintaining the safety of your pet.
Taking into account all the most important factors, we have selected Top 5 Indestructible Dog Crates
What to look for while choosing an indestructible dog cage?
Heavy duty dog crates are a bit more complicated to choose than conventional ones. It means that you will have to take into account several factors.
Size
Size is a simple factor. Here the bigger is always better unless you will use it while traveling. In those circumstances, you need a crate which is only a bit bigger than your dog. The bare minimum is 2-4 inches longer than the overall length of the dog (measuring from the nose to the tip of a tail), and 2-4 inches taller than your dog. In any other case, the biggest crate is the best.
Portability
Most of dog crates come with the wheels which are mandatory. Otherwise, you won't be able to move it. There are some units without wheels, but they should be avoided. If you want to traviel with your dog, you should choose smaller units that are designed for this purpose. Another way to travel with a dog is buy the portable dog fence. It is perfect for camping and when you go to the countryside.
Durability and strength
This is the most demanding factor to consider. A heavy-duty crate for a dog must last as long as you need it and it must be extremely strong. Fortunately, there are crates in the market that meet these conditions. To make your choice easier we have reviewed models which are extremely durable and strong.
Resistance to rust
Most crates are coated with a paint or a protective layer which makes them immune to the rust. Keep in mind that a crate will be exposed to the elements so a rust resistance is mandatory. Always check for units that come with some type of resistance. In addition, aluminum crates do not rust.
Easy for a dog to enter/exit
How big and how is door placed? Make sure that your model has a large door which can be easily accessed by your dog at all times. Here must be mentioned that a door should be easy to open/close and that they are secured once closed. If you remember, we mentioned that these crates are developed for dogs who are escape artists.
Easy to clean
Units with a removable tray are the best. They can be easily cleaned within a matter of seconds. Those without a tray are a bit more complicated to clean.
Material (steel vs aluminum vs wood)
There are three common materials in this case. Steel crates are the heaviest and the strongest. They are reserved for large dogs who are aggressive and like to chew all the time. Aluminum crates are great for a bit smaller dogs who like to chew as well. They are lighter as well. Wood crates are traditional and they are less safe than other two versions, but they look the best.
In what circumstances can I use it?
A strong dog crate is mandatory when you two travel by plane. This is the only way you can travel with your dog.
The second common purpose of having a crate is to allow a safe place for your dog, somewhere he can relax and feel secure. Small dogs love crates.
The last, but not least, a dog crate is essential when your dog is in the same house with another, dangerous dog. The solid cage will keep him safe and sound at all times.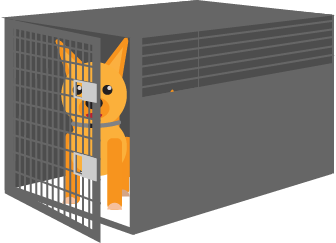 How to crate traine a dog?
Each dog owner should know that teaching his dog how to crate is an important step in the life of you two. If done properly, a dog will start realizing that a crate is his safe haven, allowing you to get plenty of benefits. Keep in mind that this process must be done slowly and properly, without any mistakes. It is easy to present a cage for your pet as a dangerous place, so a dog won't stay in it, regardless of how persistent you are.
Once he is crate trained, you will get the benefits we will mention later. At the moment, it is mandatory to keep these points in mind.
If you just close a dog in a crate, he will treat it like a prison, literally! This is the first and the most common mistake you must avoid at all cost. Always introduce the crate slowly and show to your pet that this is a safe place to be. Always make it comfortable and pleasant, by adding toys, blanket and of course, food.
The first couple of times, you will have to feed your dog in a crate. This allows for him to relax and realize the indestructible dog crate is safe and a great place to be. Place his bowl at the end of a crate and allow him to eat as long as he wants. If he still feels scared, place food at the beginning of the crate and slowly move it backward.
During this step, you will have to close a gate of an escape proof dog crate but only while he eats. Start with closing the gate slightly and increasing the closure over time. You should reach a level in which a dog is in the closed cage, but he doesn't even realize. Then, you will notice that he will sit back and relax in it.
Extending the time a dog spends in a crate
Once a dog is fully comfortable in his crate for 10-15 minutes, you can start prolonging the time. This is the easiest step of them all and almost all dogs won't even realize that they are closed in a crate.
Obviously, by now your dog is almost crate trained. Leave him closed in a crate and leave the room. Come after 1 hour, if he is fine, the process is done successfully.
Analyzing The Different Types Of Dog Crates
As a dog owner, you will agree that it can be downright difficult to leave your dog at home alone. Nevertheless, this is something that has to be done at some point or another. After all, you cannot take Fido to work with you. And, they probably won't be allowed in your local store. Unfortunately, a lot of dogs are going to destroy stuff when they're left alone. Their nerves will get the better of them and they'll begin chewing everything in their sight, from it's bed to harness. This is why you should invest in and utilize good indestructible dog crate. Below, you'll learn about the different types of dog crates so you can find out which one is best for you.
Metal Dog Crate
The metal dog crate is the most heavy duty of all the models available on the market. They are also the most expensive, but they offer great toughness instead. They are moderately difficult to set up. You're going to receive it in pieces which you will have to assemble. 
The only downside is that metal crates are somewhat dangerous. The dog's collar could easily get stuck on the metal. Therefore, you should remove their collar before placing them inside. You also have to be careful or the metal will destroy your hardwood floors.
Wire Dog Crate
Ultimately, the wire dog crate is the most common and the most basic. One of the main reasons for the popularity is the price. When it comes down to it, the wire dog crate is the cheapest of the bunch. It is also very easy to set up. You're going to receive a single piece. The bottom of the cage will be placed inside of the metal. Then, you'll just need to lift the metal up and pull everything into place. It is really that easy. In fact, the set up procedure shouldn't take more than a few seconds.
Wire dog crates are available in many different sizes. Therefore, you will easily be able to find one that suits your dog. Like the metal crates, you have to protect your dog. Make sure that you remove their collar before putting them into the crate. Otherwise, the collar might get stuck and the dog could choke to death. You do not want this to happen.
Also, it is a good idea to place something down on the floor to protect it. Otherwise, the material will damage your floors.
Plastic Dog Crate
When it comes down to it, the plastic dog crate is really one of the safest. After all, this type of crate is made of plastic. You won't have to worry too much about the dog's collar getting caught. However, most of these crates will feature a metal gate on the front. With this in mind, it is still a good idea to take off the dog's collar first. Simultaneously, you should know that the plastic crate decreases airflow. Most of the time, the holes will be small and this means that the interior portion of the crate will get pretty hot.
Therefore, it is generally a good idea to use this type of crate inside only. Otherwise, the crate might get too hot for your dog. Still, plastic crates are very affordable and they'll prove to be well worth the cost in the long run.
Wooden Dog Crate
If you're looking for something a little more stylish and flashy, you should consider upgrading to a wood crate. This type of crate is going to be downright gorgeous. It could easily pass as a luxury stand or table. In fact, you can even use the top to hold items. These crates are fairly safe for your dog. The risk of your dog's collar getting caught will be significantly lower with this type of crate. The only downside here is the fact that wooden crates are generally very expensive.
Unless you're willing to spend more, you should go with one of the alternatives. Still, it is hard not to love the gorgeous finish.
Which Is Best?
At the end of the day, you cannot say that one crate is better than the other. You have to find out the answer on your own. Take the time to consider your options and find out how much money you're working with. If you've got more to spend and you want to deck out your home, a wooden crate is best. Otherwise, you should stick with one of the alternatives.
ProSelect Empire Dog Cage
This is the best indestructible dog crate you can find at the moment. ProSelect Empire Dog Cage is known for safety and reliability. The dimensions are 35.75″L x 23.5″W x 24.5″H (M size) but there is L, a larger version available. 20-gauge steel bars are more than just safe and capable of withstanding anything your dog can throw at them. In addition, the crate looks well-made and the attention to details is above the average. We also liked the fact it comes with a gate which is extra-tough. So, in a nutshell, you will get a strong and durable, steel crate for your dog.
Wheels can be mounted at the bottom of the crate, which allows you to transport the crate easily, or they can be removed, if you need extra stability, it is up to you. This is an indestructible dog cage of the latest generation. It is so safe that even the most demanding dog owners had luck with it. You will probably be one of them as well. In addition, there is a removable grate with a tray. This makes cleaning much easier, as we have explained above.
Overall, we have a string, steel dog crate which is developed for the most problematic dogs. It is still a dog-friendly and it is made with the help of the latest technologies. In general, the crate is made to last, therefore it is a wise investment. Just in a case you want a bigger one, L version is available at all times.
Well-made and attention to the details is impressive
20-gauge steel tubes
Available in two sizes
Wheels can be attached or detached
Removable tray
L version is expensive
One gate only
ITORI Heavy Duty Dog Cage
Here we have another great steel crate for your dog. It is entirely made from steel tubes, so it is as safe and strong as it gets. Each tube is separately welded to the construction, therefore it cannot be broken or damaged. The size is 42.52″L x 29.92″W x 34.64″H , but there is a 48-inch version as well, making it suitable for larger dogs. Keep in mind that both of them are made in the same way, so they are safe, period. This is also one of the simplest to use crates. There are two openings, one on the side and another on the top. This makes it easier for dog owners to access their pets at any given moment.
When it comes to cleaning, this crate is one of the best once again. There is a removable tray in the package, allowing you to clean the cage easily and within a couple of minutes. Practicality is great due to the fact there are 4 wheels on the bottom of a crate. They allow you to move the crate easily and in any direction. Of course, steel crates are developed for home use, but this one is slightly better than similar models.
Gates are additionally secured, so there won't be any chances that your dog opens them accidentally. The model in question has been covered with a nontoxic surface to make sure that your dog stays healthy when he tries to escape by chewing metal frame.
Extra-strong
Gates cannot be accidentally open or opened by your dog
Available in 4 sizes
Wheels for easier transport
Smonter Heavy Duty Strong Metal Dog Cage
The model in question offers affordable quality. It is rust resistant and it is made from steel. These crates are the most durable of them all and they can withstand almost anything. This one has dimensions of 42 x 31 x 37 inches, but it is available in a smaller size as well. What we liked especially is the gate. There are three of them, two at the front (for smaller and larger dogs) and one at the top. This made the unit extremely functional regardless of the dog size. When we are discussing simplicity, we should add that the assembly process takes just a few minutes. Basically, you have 4 screws to tighten and you are done. This durable dog crate may be the best value for money you can find at the moment.
Cleaning won't be an issue as well. There are 2 plastic trays beneath the crate, making this process more than just easy. Don't expect to waste more than a couple of minutes on cleaning. In addition, wheels are included in the package, so you won't have any issues with them. They cannot be removed, but they don't affect the crate stability.
The cage is developed for heavy-duty purposes, where you must have a high-quality cage, capable of meeting the toughest requirements. In essence, the most demanding dog owners will appreciate this cage and their dogs are going to love it. You get everything you need and at a low price.
Great value for money
Comes with 2 plastic trays
Rust resistant
Easy assembly process
3 gates
Packaging issues
Customer support
Haige Pet Your Pet Nanny Dog Crate
There are plenty of dog crates out there. Nevertheless, it is incredibly difficult to beat the Haige Pet Dog Crate. This crate is one of the coolest out there. It offers plenty of space for your pooch and it is very breathable. Therefore, you shouldn't have to worry too much about your dog becoming overheated. On top of that, this cage offers a wealth of other benefits. More about this will be explored in greater depth below.
Easy Portability
It is true that many dog crates are too difficult to move around. Well, this is not going to be an issue with the Haige Crate. It is equipped with four wheels. They're conveniently placed at the bottom. This ensures that you'll be able to push the crate around your home without any issues. Plus, the wheels are designed to protect your floors. Finally, you should know that the wheels can be locked. This will prevent the crate from moving around too much.
Great Warranty
While this crate is indeed a little expensive, it'll prove to be well worth it in the long run. After all, this crate is protected by a 3-year warranty! This is going to give you significant peace of mind. If you're worried that something could go wrong, this is the crate for you. It is covered for three years so you won't have to worry about buying a new one anytime soon.
Overall Assessment
All in all, the Haige Nanny Dog Crate is definitely one of the best. However, it is a little expensive. Therefore, it might not be suitable for everyone. If you are adamant about giving your dog the best, you should save up and buy this one. You will not be disappointed in the least.
Protected by a three year warranty

Very easy to move around

Looks amazing

Wheels lock in place

Offers plenty of room for your dog

Material will never rust
Grain Valley Collapsible Dog Crate
No products found.
This is a bit different dog cage than other models on the list. First of all, it is made of aluminum and it is completely rust resistant. Even additional elements are made from stainless steel and rivets which are coat protected. In general, this cage can withstand all kinds of bad weather and circumstances and it will stay like new. Aluminum is .063, making the construction tough and strong.
The dimensions are 24″W x 18″H x 18″L inches, making this a large crate. But, the manufacturer offers a smaller version as well. Basically, they are the same except the size and it is more affordable. Anyway, this version is developed for larger dogs, while smaller one is suitable for smaller breeds. The larger version can be used for dogs up to 100 pounds, who are up to 29 inches tall. Both of them are foldable, making this the best, portable dog crate. They can be folded within seconds and they will make transport easier than ever. The folding design is an all-new and highly desirable feature.
Additional facts you should know is that there are spring-activated handles, the accessories for usage on airports and ventilation on all 4 sides. The door will stay shut as long as you need them and it is impossible for a dog top to open them. Even during the manufacturing process, the manufacturer didn't use toxins, chemicals or anything else that may have a negative effect on the health of your dog. We liked feature as well.
No products found.
Foldable design is impressive
The overall quality is above average
Available for smaller and bigger dogs
Aluminum and steel construction
IATA approved
Metal tab inside may be appealing to chew for your dog
Pricey
Luckup Dog Crate Heavy Duty
If you find your pooch constantly escaping from their dog crate, it is time to bring the big guns out. The luckup Dog Crate is a heavy-duty cage that can't be messed around with. 
Don't be intimated by the size and the strength because this massive piece of savior is easy to put together. The assembly instructions are lacking a little but that should be a problem because all you have to do is fit 4 wheels and fix it with 8 screws. The rest of the locks come preloaded. It will take you less than 10 minutes to set it up even without looking at the instructions. 
The construction is such that is will resist any of your dog's efforts to chew or force their way out. The heavy-duty steel frame is coated with a protective layer to prevent any corrosion or rust. The coating also makes it easy to clean. All you have to do is wipe off the dirt with a wet cloth and you're good to go. 
Key features:
Quick and easy to assemble. All it needs is to fit 4 wheels which are then fixed with 8 screws. All other locks come preloaded 
Strong enough for large breeds, thanks to heavy-duty steel frame 
Double door design with a large door in front and another at the top 
Steel frame is corrosion and rust-resistant and plastic tray is easy to take out 
Assembling takes only a few minutes 
Sturdy construction 
Rustproof 
Easy to move thanks to casters 
Latches may misalign 
Poor assembly instructions 
KELIXU Dog crate Heavy Duty
This one comes in 4 sizes and has a back finish. The durable and sturdy steel frame makes sure your fuzzball is kept in place. It comes with a bottom grate and sliding tray to make cleaning easy for you. This is a rust-resistant crate which means you can keep it both indoors and outdoors. 
The crate weighs 59 pounds, so you can easily assemble it and fold it away when not in use. That said, the front door can run a little small for bigger breed dogs. Make sure you securely lock the 360-degree rotating wheels to prevent any determined fuzzballs from escaping. 
We love the chew-through warranty that the company provides to all its buyers along with an anti-escape lock. Make sure you remember that the bottom slates come with a wider gap and so be careful not to get your pooch's paws stuck in between. With everything said, this is a great choice for pet owners who are looking for a middle-of-the-road option. 
Key features:
Made with sturdy and corrosion-resistant steel frame to prevent aggressive dogs from escaping 
Update dog crate prevents possibility of escape from destructive dogs. It is also far more superior with thicker tubes to resistant constant biting
Sliding plastic tray makes it easy to clean up excrement and fallen food 
Easy to assemble set with detailed instructions 
Durable and sturdy steel frame with protective coating 
Can fold down 
Anti-escape locking system 
Rust and corrosion-resistant 
Plastic sliding tray 
Single door provision 
Small front door