The-Hunting-Dog is supported by its audience. We may receive commissions on purchases made from links on our site.
Having a dog or dogs means you have to essentially prep your household with all kinds of dog accessories and tools. Some of which, like the plastic dog crates are looked at as a top must-have item. With a plastic dog crate at your disposal, you can achieve a lot of things with your dog.
From becoming travel buddies to making a trip to the vet with ease, you can have it all. These crates are extremely efficient and convenient. Pop one of these on your to-buy list, and you'll definitely make the most of it.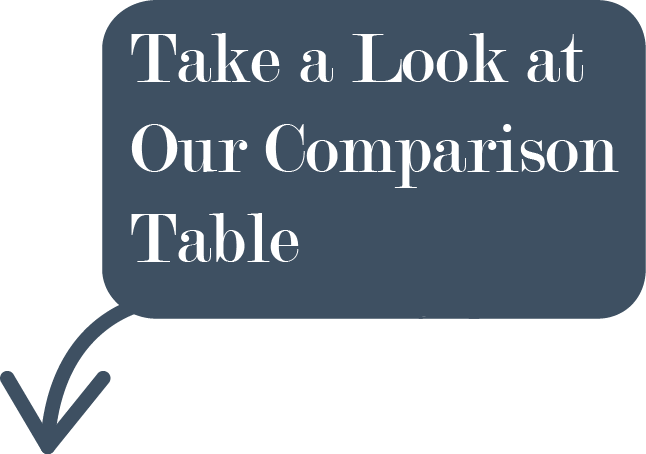 Based on our experience, we have created a list of Top 5 Plastic Dog Crates
What are the benefits of a plastic dog crate?
Every product is made keeping in mind how it can provide you with maximum help and efficiency. So, let's have a look at some of the ways in which you and your dog can benefit from this productive item.
Easy travel: say yes to that trip to the Bahamas! Plastic dog crates are approved by airlines for traveling, which means you and your dog can spend quality time together. And that also not in some park or your backyard but somewhere far and exotic.
Limited vision: plastic crates usually have only one open space, which is the entry gate. This sort of gives you a huge advantage over any other crates as the limited eye view can help create a cozy and secure space and also help dogs to settle in, particularly those with separation anxiety.
Lightweight: These crates are also quite lightweight and easy to move around, owing to its plastic made structure which gives it it's weightless feeling.
Portability: These crates are not exactly foldable, but they're still quite portable. These are held together by bolts and nuts on the center, which are easily removable and can be detached.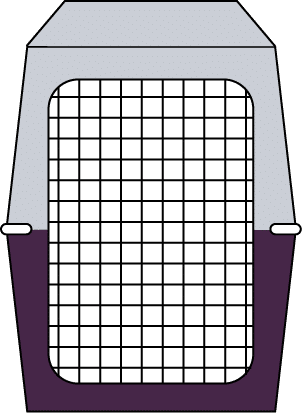 Features to look out for before buying a plastic dog crate 
Size: most crates are available in standard small, medium, and large sizes, but some crates are naturally available only in one size, so always check and measure the crate size before you make a purchase.
Ventilation: plastic cages are often known for having small open space, which means less space for ventilation. In order to check this problem off, search for plastic crates that have ventilation on the back and sides of the crates as well and not just on the front.
Easy assemble: look for plastic crates that support ready-made, already assembled crates or the ones which don't need extra tools to be used. This will save a lot of precious time and ensure easy crate assembly for you.
Easy to clean: keeping the crates clean is just as important as keeping your dog clean. So it's crucial for you to look for crates which are prone to easy and routine cleaning.
Airline approved: sure plastic crates are approved by airlines for travel, but this does not cover all plastic crates. A lot of this travel approval depends on the crate itself, so you have to be very careful in choosing the right approved ones. Especially, if you're planning on traveling with your dog.
Durability: these crates are meant to be taken here and there with all kinds of dogs. From large ones to aggressive ones eager to bite anything and everything. For this purpose, the crate needs to have a built consisting of strong and quality material to ensure durability and long-time use.
Door option: looking at the entryway for the crate, choose wisely whether you want to opt for a single door or a double door.
Wheels: while small dogs can be taken away swiftly in their crates, that might not be the case for large dogs. So to fix this issue, look for crates that have wheels attached to their bottom so you can easily wheel your dog away.
Weight: look for crates that are lightweight but can carry a certain amount of weight inside. Given its purpose and use, your plastic crates are made to hold and carry dogs, so it'll be of no use if it can't carry your dog's weight, whether it's 20lbs or 60lbs.
Which crate is better: plastic or wire?
Both crates are highly efficient and durable due to its material composure. Plastic crates can hold off wear and tear for a long period of time as it's mostly made from hard PVC material, but so can metal wire crates.
With sturdiness and stability of the structure, plastic can hold off pretty great but not as good as metal. The metal is very heavy. Hence, it's able to provide a sturdier and stable built to the wire crate in comparison to a plastic crate.
But one disadvantage is that since wire crates are made of metal, it can get rusted or bent over time. Plastic crates are also much lighter in comparison with wire crates, so this definitely gives a bonus to plastic made dog crates.
Plastic crates are also easily assembled and can also be popped apart and kept in storage. So, by comparing some of the essential features, like durability, lightness, and assembly we can see how plastic crates are the better option for many situations.
What can you do when puppy whines inside the crate?
The first steps are always the hardest. This also applies very well to your puppy, who has been put in a crate. Puppies are prone to whining a few times when put in confined spaces for the very first time.
So it's not a surprise if your puppy has been whining and crying these past few nights. Here are some tricks and tips on what you can do next time they whine.
Make it comfortable. If you find your puppy whining a little too much, chances are it might not be comfortable enough so fill the crate with super cozy and soft padding so that your puppy can get quality sleep.
Give lots of potty breaks. If your pup wakes up crying in the middle of the night then it can only mean one thing. It's time to empty those stools so assure them with plenty of potty breaks.
Pick the right-sized cage. Often crates that are too big in size can make it harder and difficult for the puppy to adjust to the crates.
Exercise them. If you can exhaust your pup's playful energy with exercises during the day, this will help in making the puppy sleep a lot faster without much disturbance.
Choose the correct crate placement. Dogs, especially smaller puppies feel more at ease by being around you so make sure to place the crates near your bed so that they can see you.
Provide your puppy with plush toys inside the crate. This will enable them to play and exhaust themselves to sleep.
We know how hard it can get to choose the right and the best plastic dog crate, so we have compiled a list of the top quality plastic crate to aid in on your search.
5 Plastic Dog Crate Reviews
1. SportPet Designs Rolling Wire Plastic Dog Crate
If you're looking for a plastic crate that provides you with every bit of consistent performance, you'll want to note this one down. This plastic kennel from SportPet Designs will definitely live up to your needs and expectations.
This crate is available in a massive range of 6 sizes, all of which except for the small size comes equipped with removable wheels. These can be snapped on & off as you wish. The crate itself comes in only one color. But needless to say, it does have a very minimal and attractive look and feel to it.
The surface of the crate is made using durable plastic with Polly shell to make it extremely sturdy and long-lasting. The front and the rear windows have metal slats which are great for air ventilation and also keeping dogs with chewing problems in check. 
Now, if you opt for the small size crate- ideal for smaller pups, you'll get a plastic front and windows in order to prevent any kind of harm to the puppy. Speaking of safety, this easy to assemble crates are locked together in place with metal hardware to provide a sense of security for you and your dog.
These plastic crates are IATA Airline approved and as per Airline requirements, it also provides tie-down holes made for bungees. For additional functionality, the crates come with two removable water dishes to keep your dog hydrated while on air.
You can also take the crate apart from the middle and keep it away for storage when you're not using it. This makes it very convenient and portable as well as a huge space saver.
Removable wheels
Water dishes inside the crate
Approved by IATA Airline
Size guide maybe not be reliable
2. AmazonBasics Pet Travel Carrier
This plastic crate should be the next best tool on your cart, highly recommended for dog owners who love to travel in style. 
Designed keeping in mind, secure and comfortable transport for your dog – this crate can go to places. Whether it's traveling somewhere by air or a quick trip to the vet, you can take your pet with ease. It comes in two sizes, most ideal for small-medium dogs.
The structure of the crate is made using durable plastic along with steel wiring on the front to aid in on heavy-duty use. For added ventilation, it has several visible holes on the sides, back, and top so that your dog can breathe properly while taking in all the view.
It also features a smart two-door design. One at the front and the other at the top. The top of the door can be opened from the left as well as the right side. This offers easy entry access for your pets.
In terms of built, it has a very secure construction and can also be taken apart easily. The crate is snapped and held together in the middle by four strong latches. And with a handle on the top, you can carry this crate off with ease.
Two door design
Detachable structure
Easy to assemble
3. Aspen Pet Heavy-Duty Carrier
Next up on our list is this heavy-duty carrier crate from Aspen Pet. Think of this crate as the ultimate upgrade tool. If you opt for this crate, you might just end up making the best decision for your dog.
This plastic crate is available in a massive 8 sizing option. It is suited for dogs weighing anywhere between 10 to 90lbs. This will certainly fit any breed and size of dog. It also provides 8 color options, from pink to black. Make traveling fashionable with these colors.
In terms of design and construction, the crate is provided with heavy-duty plastic shell along with metal screws strong enough to hold your pets while keeping it stable. Metal grill doors and airy windows provide the perfect ventilation while also giving visibility.
The crate also features a very lightweight design to make it easy for transport and secure traveling. The closed off and limited eye view surface makes it great for dogs who have separation anxiety as the closed-off space will give them a sense of comfort and security.
You can save plenty of time on this one as it has a quick assembly feature. The crate is held with strong nuts and bolts from the middle to ensure stability while making it very easy to assemble as well as detach. Given its durable make, the crate can also withstand any heavy cleaning duty.
Hard durable PVC shell
Easy assembly
Multiple color and size option
Plastic ventilation might make the panels easier to break
If you're looking for plastic dog crates with multiple entrance options to fit your stubborn dog, this two-door plastic crate is the perfect fit for your dog. After a few trips to the vet or somewhere outdoor, even your stubborn pup will fare well with this crate. 
In terms of color and size availability, it has 4 color option along with 2 sizes to fit small-medium sized dogs. It also features the famous two-door feature. One at the front and the other at the top, both are made with durable metal grill.
The crate is made from a blend of plastic, perfect for durable and lightweight use. It also features a comfort-grip handle along with ventilated sides to make the carrier airy and comfortable for your dog to breathe. The base of the crate can support padded cushion to make it more comfortable for your dog.
For convenient and safe access to the crate, it features easy-squeeze latches. This will also give your dog a feeling of security and stability when traveling. This is indeed a great travel carrier, especially for your small puppy. Plastic crates are also good for giving crate training.
Two-door function
Great for crate training
Supports additional cushion padding
Make traveling with dogs safe and easy with this comfort crate from Petmate Ultra. This is particularly great if you have larger dogs like a husky or some other.
The structure of the crate comes in a hard yet lightweight plastic shell to ensure extra durability, making it great for long-lasting use. The crate also provides a detachable feature, which you can make use of to quickly dismantle and keep away in storage after use.
Strong metal screws at the center keep the crate very secure and stable. The metal wire air vents and door makes it easy for your dog to breathe while providing an airy, comfortable interior. These metal wires are also great for withstanding aggressive biting and chewing.
This plastic also has a tie down hole feature to make the crate safe, comfy, and secure while traveling. The door of the crate sports an easy to open the latch to ensure security. You can also put an extra padded cushion on the base if you want to give extra comfort to your dog.
Since the crates are made from a hard plastic shell, it can also withstand lots of scrubbing and cleaning. Make your crate healthy and hygienic by cleaning it regularly. Also, the raised interior of the crate provides extra space and height for your dog to stay in and relax comfortably.
Metal wire ventilation
Raised height for extra comfort
Easy assembly
Might not be ideal for smaller dogs
Conclusion
Lightweight, durable, ventilated metal door, and windows along with stability and hard surface structure, this combination makes these crates some of the best plastic dog crate available for you and your dog. Especially if you're prone to travel a lot, these are the perfect getaway item as it is approved by airlines.
So, if you're really thinking about getting one of these make sure you're able to inspect it properly before any purchase. A lot of plastic crates are available in the market so make comparisons between products and go for the ones which benefit you the most.