Best Dog Shock Collar With Remote – Best Models Reviewed
The-Hunting-Dog is supported by its audience. We may receive commissions on purchases made from links on our site.
One of the most sophisticated ways to train your dog and to help him learn new things is to use dog shock collars. They are the same as regular dog collars, but they have a built-in battery and an electric current in them, obviously. The best dog shock collar with remote allows you to adjust the amount of current you need to use. Of course, there are a few more things you should know about this matter. Right now, all you have to know is that all of these collars are safe to use.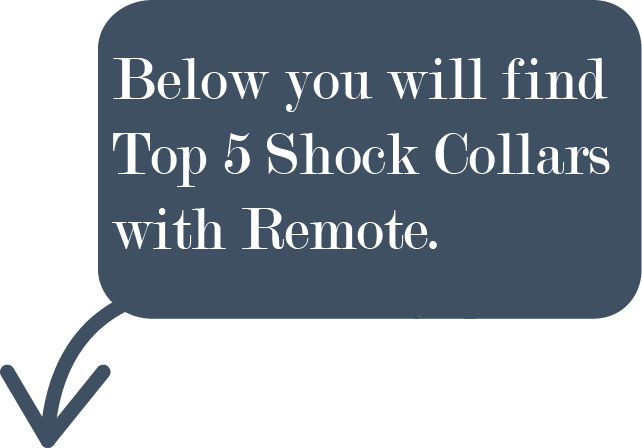 Taking into account all the most important factors, we have selected Top 4 Dog Shock Collars With Remote
Dog shock collars: All you have to know
Dog shock collars release an electrical impulse through a small, metal piece directly on the neck of a dog. Once released, a dog will realize that impulse as alert, which will stop him doing what he started. The best dog remote shock collar is obviously pre-tested and safe to use, due to the fact it doesn't cause pain to a dog. As a matter of fact, all modern dog shock collars are safe to use and they don't cause pain.
There are a few benefits of these collars. They are essential when you want to:
Completely eliminate unwanted behavior
Train your dog
Manage him when he isn't on a leash
Train him to stay in your backyard
In essence, a dog shock collar allows you to train your dog or limit his movement on a safe and reliable way. Additionally, they can be used for hunting and to set up basic rules your dog will have to obey.
Dog shock collars are primarily developed for large dogs, who are unable to obey rules using conventional methods. Those dogs that like jumping on people, don't behave properly or they are aggressive will also benefit from these collars.
If you like the idea of electric collars, there are other kinds of devices that use this solution. First, we have invisible fence type, which will activate shock when a dog passes specific, invisible line. The second type is barking collars. They will be activated only when a dog starts barking. The convenient solution, because it doesn't require your attention whenever the dog decides to bark.
Dog shock collars are not cruel
Try to remember that all dog shock collars are safe. They are not dangerous nor cruel to dogs, due to the fact they don't cause any pain at all! There are some dog owners who think these collars are cruel, but according to several studies, they are not.
How to train the dog using dog collar with remote?
While all dogs are good, they're not going to exhibit good behavior right from the beginning. If you want your dog to behave, you'll need to teach them to do so. This is going to be a little more difficult than you imagine. The good news is that there are training aids that can help. If you want the best results, you should definitely consider investing in a dog shock collar with remote. As long as you use the collar carefully, you won't cause the dog any harm and you'll teach them how to behave properly. Below, you're going to learn how to train your dog using a dog shock collar with a remote control.
Show The Right Behavior
First and foremost, you should attempt to show your dog the behavior that you want. You need to let your dog know that they cannot bark at strangers. They also need to know that they should not chase after animals or children. Make sure that your dog knows what is acceptable and unacceptable. Once you've done that, you'll be ready to start instilling these good behaviors into your dog and this is where the shock collar will prove to be very helpful.
Before Using The Shock Collar
Remember that you should never choose the shock collar as your first option. Instead, it should be your last resort. Before using a shock collar, you should try the alternatives. If that doesn't work, you'll have no option but to buy one of these products. After that, you should experiment with the collar a little bit on your own. Make sure that you look at the settings carefully. Be sure that you turn the shock setting as low as possible. After all, you do not want the dog to get hurt or scared.
Use Multiple Methods In Addition To A Shock Collar
Remember that even the best shock collar is not the ultimate solution. You should not rely on it solely. Otherwise, you're going to end up doing more harm than good. Instead, you should combine the shock collar with other training methods. This is the very best way to get the results that you're after. Do that and your dog will pick up on the behavior much, much quicker.
How Long To Use Shock Collar
Another thing to note is that you should never use a shock collar too long. Doing so will create big problems for yourself and your dog. If you leave the collar on your dog for an extended period of time, there is a good chance that it is going to cause pain and discomfort. It will actually irritate the dog's neck and it may weigh them down too. With this in mind, it is generally best to put the collar on the dog whenever you're going to be training it. Once the training session has concluded, you can remove the collar. This is the best way to get good results without overdoing it.
Limit the use of the shock collar to your training sessions to avoid problems.
How Old Should A Dog Be?
A lot of people want to start training their dog as quickly as possible. There is definitely nothing wrong with this. However, you have to be very careful about starting too early. This is vitally important if you're going to be using a shock collar. It is fine to start training your dog from the beginning. However, you should not use the shock collar until your dog gets a little older. After all, it could cause irreparable damage to a young dog. In general, it is safe to begin using a shock collar on your dog once they hit 12 weeks. However, it is often best to wait a bit longer.
You should only use the dog collar at this age if the dog is out of control or just won't listen. Don't do it. Wait until the dog is a tad bit older just to be safe.
How To Know A Stimulation Level
In order to use the dog collar safely, you need to know a lot about the stimulation level. You need to be very careful to ensure that you do not use a level that is too high. If you do, you're going to end up scaring and harming the dog. In return, your efforts will be for nothing. To get the best results, it is always a good idea to start with the lowest level first. This will ensure that the dog does not experience any discomfort. After that, you can increase the level as necessary. Just be extremely careful about it. If you're going to increase the level, do so carefully and meticulously.
Choose A Reliable Collar
Over the years, a lot of companies far and wide have started producing shock collars. This is a good thing in some ways. After all, it gives you far more options to play around with. Of course, this is bad to some degree too. There are many collars that aren't worth the time or energy. In fact, they could be dangerous. If you're going to be using a shock collar, you need to buy one that has been manufactured by a reliable company.
Pay Attention To Your Dog's Behavior
Finally, you should pay very close attention to your dog's behavior. If your dog is in discomfort, you will know right away. Being observant is one of the best ways to decrease your dog's irritation. When you notice that they're irritated, you should decrease the stimulation level. Never leave your dog unattended when you're using the shock collar.
Summary
It is undoubtedly true that shock collars are very effective training aid. However, you have to be extremely careful when taking advantage of these products. Otherwise, you may not get the results that you're after. Be sure to rely on the tips above to ensure that you are able to train your dog without causing them any discomfort.
What to look for in shock collars with remote
Despite they all look similar, dog shock collars are a bit complicated to choose correctly. Simply said, there are a lot of factors to consider. The first one is actually your dog. The best shock collar with remote will suit him perfectly. To get this factor properly, you will have to consider his size, his breed, neck diameter and overall weight (also important for intensity). Now, you can move to other factors.
The battery
Some dog shock collars come with batteries which can be recharged. You will have to take off a collar, plug it in and recharge it. Others have batteries which can be replaced easily. They are or expensive over a longer period of time, but they are considered as always-on models.
Range
This factor determines the distance you can control a collar from. 500 yards are usually a decent choice, but there are collars that have higher or lower range. In any case, a collar's range may be affected by visual obstacles.
How many dogs can be trained with a single remote
Some remotes can be used for training three dogs at the same time. Others can be used for just one. It depends on a model and this factor cannot be generalized. Basically, a remote controller will have three buttons, used to control each collar separately. Quantity of dogs which can be trained will vary significantly.
Waterproof
One, the interesting advantage is the waterproof feature. It can be more than just needed if you live in an area where rains are common. This refers to a collar and a remote controller. Some models have an only collar which is waterproof, while others have both, remote and a collar. Submersible up to 25 feet models are considered as a great choice.
Adjustable intensity
Not only this feature allows you to adjust the intensity of a collar, so you can use it for larger or smaller dogs, but it also makes it suitable for different applications. Do you want to warn a dog or to try and tell him that he just made a big mistake? Always look for this factor, due to obvious reason. Those with just one intensity level cannot be used on multiple dogs of different sizes!
Type of stimulation
There are three types of stimulation: Tone – makes the unpleasant sound. Vibration – vibrates on the dog's neck. Static stimulation – delivers an electric shock to the dog. Best devices features all three types of stimulations.
Additional features
In a nutshell, additional features include LCD display, vibration before a shock or a beep sound. Beep sound and a vibration are used to alert a dog that shock will be issued. They are more than just helpful and they can eliminate a need for using shock in some cases. An LCD is used to display information such as battery level, range, statistic data, etc. Usually, you will get a small, yet practical LCD display. Another very useful feature is waterproof remote control. No one likes to get caught in the rain, but when you find yourself in this rather unfortunate situation, you don't want your device to mess up.
SportDOG Brand FieldTrainer 425
Here we have the best dog training collar which is simple said, loaded with features. First of all, it can be used for training 3 dogs (you will have to purchase additional collars) with a single remote. Then we have the fact it is suitable for dogs from 8 pounds with a neck diameter between 5 and 22 inches. There are 7 intensity levels as well. Each user is able to adjust the intensity, the duration or to choose beep sound or a vibration.
Both, the collar and the remote controller are waterproof, up to 25 feet. The battery requires 2 hours to recharge, but it will last up to 70 hours. The minimum time you can expect is 50 hours. Charging is simple and easy thanks to sophisticated, hidden charging port. One, addition we liked is related to additional features you get. There is an instructional DVD, care center, tips and well-written owner's manual. When it comes to dog shock collars, it is important to read these manuals, due to the fact each model is a bit different. The collar is highly resistant to dust, dirt, water, rain, heat and cold weather. It will function perfectly at all times, allowing you to train your dog precisely as you want.
The range is 500 yards, or as we have mentioned, one of the average ratings. In essence, this range is suitable for all types of dogs and can be used for multiple applications. Chances are low that you will need additional range. And yes, all three collars will work within 500 yards from a remote controller at all times. Overall, this model is one of the best and highly desirable. You should consider it, definitely.
Can be used for controlling 3 collars at the same time
500 yards range
Up to 70 hours of battery life
Well-designed and durable
Waterproof design
Comes with manual and instructions
Lack of safety switch
Expensive
Dogtra 1900NCP Field Star
No products found.
Check the price on Amazon
This dog shock collar is considered as one of the best as well. It is actually a tough choice to make. We liked the fact there are 127 levels to choose the intensity. Then we have the range which is just phenomenal, up to 1/2 mile. Keep in mind that there are different versions of this collar, so you can get a lower range at a lower price or vice versa. But, all versions come with advanced shocking technology, meaning that there are several options to choose from. The type of vibrations, length and etc. Let's not forget that this is a completely waterproof collar and remote. Due to this advantage, it was ranked as the best dog electric collar for dog owners who need waterproof dog collars.
There is an LCD display as well. It will show the battery level (there are three bars and the intensity you have chosen. We liked this addition. The LCD is illuminated and easily visible at night and during a day. It isn't the biggest one we have seen, but it does a decent job and you probably won't have any complaints here. We will also add the fact that the collar, the remote and the LCD are heavy-duty units, therefore they can withstand tough usages and they are durable. Perfectly if you have a too happy dog. In addition, the collar uses Ni-MH rechargeable batteries.
In the package, you get a carrying case, which is a great addition and several additional accessories. Overall, you get everything you need to start training your dog. The bottom line comes to the advantages of this model. It is durable, loaded with features and it has the best sensitivity setting out there.
Superb range of 1/2 mile
Adjusting the sensitive
Tough and waterproof
LCD display is decent
Cannot be used for multiple collars
Complicated to charge the batteries
Patpet Dog Training Collar
This is a dog shock collar with the best remote controller you have ever seen. It is beautifully made and it comes with plenty of features. There is also a safety feature which prevents accidental usage of the remote, which we liked as well. Besides the remote, you also get a decent range, which is 1000 yards. It is available at all times, regardless of where or what your dog is doing at the moment. The collar is suitable for all dogs between 8 and 100 pounds (neck diameter up to 25 inches) which makes it suitable for most breeds. Of course, we must add the facts, it is a very affordable and it is waterproof as well (1 meter).
LCD is implemented as well. We liked its advantages such as bright background light and the size, which is modest, yet practical. There is all the information you are going to need, splayed on this LCD. The light is blue, which looks great at night. There are shocks, vibration, and beep warnings, allowing you to train your dog in the safest possible way. Let's just mention the fact there are also 16 intensity levels to choose from.
The warranty is extraordinary. It is a 2 year warranty which we liked a lot. At the moment, this is one of the rare models and the only one in this price range that comes with this advantage. It is possible because the overall built quality is above average and the collar and the remote are perfectly made in any possible way.
16 intensity levels
Well-designed LCD display
Fits for most dogs
Chocks, vibrations, and beep sounds
Isn't suitable for extra-large dogs
Customer support
When it comes to simplicity and practicality combined, this electric shock collar is the best. The wheel-design allows you to adjust the intensity in a few seconds. There is also two-step feature which we liked as well. Intensity can be adjusted between 1 and 100 and you can select beep, vibration or shock. All of these methods are safe to use and they won't harm your pet. This E-collar is also waterproof (IP67). Your dog can dive up to 3 feet into the water, so it is more than just great for demanding dog owners.
Each dog, with a size between 10 and 100 pounds can wear this collar. There are two belts included in the package, which makes things even easier. The battery standby time is 15 days. The range is medium and it is 660 yards. So, this is great for owners who have high requirements when it comes to a new electric collar for their dog.
In the package, you get a test bulb, great owner's manual and plenty of accessories. The collar is ready to be used straight from the box.
Completely waterproof
Battery lasts 15 days
Beep, vibration, and shocks are implemented
Range of 660 yards
Dog Training Collar By VINZOO
Now we have a collar which stands out from the crowd. It is beautifully made and the remote comes with a great LCD display where you can see the battery level and plenty other information. The range is 800 yards, which is good. We ranked this collar as one of top 5 choices due to the fact it is extremely comfortable for your dog. Adjusting it and controlling it is simple as well. Beginners won't have a difficult time using this unit. Then we have the communication between an owner and a dog. It is remarkable in the lack of a better word.
This collar would be ideal for most breeds. It is developed for dogs which are 8 or more pounds heavy, making it suitable for small, medium and big dogs. Obviously, the adjustment has to be done, but even here the manufacturer offers detailed instructions on how and for how much to adjust the collar. You are going to like this fact and you are going to be thrilled with it. One additional advantage is the intensity adjusting. There are 8 levels, which is about average.
So, we have a well-made e-collar, which is reliable, durable, comes with a great remote controller and has a great intensity adjustment mechanism. It fits most dogs and it is easy to use. Your dog will be trained in no time, yet he will stay safe. In addition, this collar also comes with a beep, vibration and shock features. Each one has a separate button.
Remote controller
8 levels of intensity
Fits most dogs
Easy to adjust and use
Detailed instructions
PetSafe Remote Waterproof Dog Trainer
Training your dog has never been easier with this PetSafe waterproof collar and remote. With a 300 yard range, you can use this handy trainer anywhere, be it on the beach, riverside, or swimming pool whenever your pooch is acting up. 
This trainer comes with a safety lock feature with 8-15 levels. The collar comes in three different modes – beep, static stimulation, and vibration. With a simple press of a button, you can now get your buddy's attention whenever he is acting up. 
You can train either a Labrador or a poodle with this shock collar, thanks to the different statics stimulation levels, which ranges from 1 to 15. The shock collar by PetSafe is an excellent choice for timid and sensitive dogs because it has gentler stimulation levels compared to most of the shock collars available in the market. 
This dog trainer can fit any size, and both the collar and the remote controller are rechargeable. 
Key Features:
Remote control with 300-yard range 
3 different training settings – beep (tone), vibration, and static stimulation of 15 levels
Train two dogs with just one remote controller at the same time by purchasing an add-a-dog collar 
Rechargeable battery with 2 hours charging time that lasts for 40 hours 
Both remote controller and collar are waterproof to be used outdoors and on during wet weather days 
Sleek design 
Long-lasting battery of 40 hours 
Waterproof remote and collar 
Flimsy on/off button 
Strap does not stay in place 
Here is finally a hands-free training solution for your pooch. You can use this shock collar even a mile away to fix problematic behaviors like leash pulling, barking, digging, stealing, etc. 
If you feel like dog training collars are a little too inhumane, don't worry because the dog trainer from PetSpy X-Pro comes with three different training modes. The intensity increases from a mere beep to vibration and finally, the dreaded electric shock. If your pet parents who prefer the gentle approach, you can simply use the beep or vibration. 
This dog training collar also comes with several training guides, including the e-book, articles, videos, and even direct chat with the company's professional dog trainers who are available 24/7. 
Key Features:
Three different dog training settings – beep, electric shock, and vibration trainer with 16 levels for adjustment according to different weight and sensitivity levels 
Blind operation setting for easy dog training along with Touch Distinguishing Buttons
Remote control range works up to 1000 yards 
Recommended for dog breeds between 10-140 lbs 
Dog training e-book service included along with videos, articles and direct chat with dog trainers 
Lifetime replacement warranty with 24/7 customer support 
Convenient charging of both receiver and transmitter at the same time
Lifetime replacement guarantee 
3 different training modes – beep, electric shock, and vibration 
Training services include e-books, articles, videos and chat support
Lanyard on the remote is short 
Shock feature may be too strong for younger/smaller dogs