The-Hunting-Dog is supported by its audience. We may receive commissions on purchases made from links on our site.
Most dogs enjoy swimming in the water. It may be easy for them to enter or exit the water at the beach, but it's a different story when it comes to pools at home or boats. Not only is it difficult for them, but it can also be dangerous. Fortunately, you can solve this problem with a dog pool ramp or a ladder.
These ramps allow your furry companion to move in the water comfortably and avoid drowning. They can enjoy soaking themselves up by going in the pool and back without constant monitoring. This also helps a great deal to remove that extra weight they may be carrying. It only allows them to clean up but also helps to remove the additional heat clamped in their coat of hair.
Based on our experience, we have created a list of Top 3 Dog Pool Ramps
What is a Dog Pool Ramp?
It is a simple plastic ramp that can be recycled and used for animal rescue from accidental drowning. They are typically attached to the side of the pool, giving dogs access to move to different locations without jumping in the water. You will also find these ramps in ponds, lakes, boats, and docks, etc. 
Why Do Dogs Need the Pool Stairs?
Besides giving your pooch a fun day he deserves, swimming is a wonderful therapy for dogs with arthritis, obesity, and geriatric problems. It also increases their heart rate, which in turn burns excess calories.
The pool steps are designed to protect dogs from drowning mishaps by providing a firm grip surface and no holes to avoid paws getting stuck. Providing pool stairs at home or in your boat gives them the confidence and independence to have fun in the water even when human assistance is not around.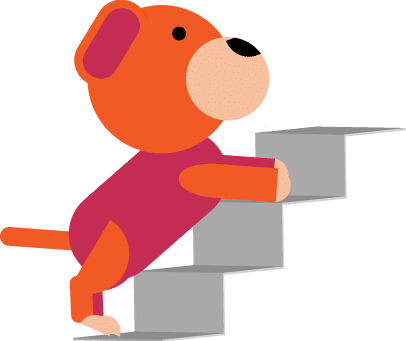 What to Look for While Buying a Dog Pool Ramp
It is not an easy process to select the best ramp. There is no such thing as "one size fits all" with pool stairs. Each has its own distinctive features that are suitable for different types of dogs.
Measure the size of your canine and choose a ramp that is bigger than its size. This is to make sure that the dog pool ramp will be able to carry the weight of their body without breaking.
It is also crucial to decide where you will be placing the ramp before you buy it. They come in various sizes, and the space required for the ramp may be smaller compared to ramps that need to hold on to ladders.
Another important factor in installing a pool ramp for dogs is to check their stability while in the water. For a nervous canine, they will feel more confident with a stiff and robust support ramp while a dog that is already comfortable in the water can get away with a loose or flexible one.
3 Best Dog Pool Ramps Reviewed
There are so many choices available in the market, and many of them are good, which can add to your confusion. Here are 3 of the best dog ramps for water available in the market right now.
Paws Aboard Pool Pup Stairs
This is a long-lasting corrosion and rustproof dog pool ladder that allows your pet to climb the stairs and into the boat with minimal strain and pain. Many buyers have revealed that this is ideal for overweight, arthritic, and senior dogs.
The slip-resistant feature also prevents accidental slips that may cause injury. The ribbed design gives your canine a secure grip as they climb in. It is perfect for smaller breeds and puppies. According to the product manufacturers, you cannot use it for dogs above 135 lbs.
It has light material, making it easy to carry around once you are done using it. Thanks to the compact design, you can easily place it in small compartments after cleaning it in soap and water. If you want to use the ladder, just detach the ramp and keep it afloat by the side of the boat.
The Paws Aboard Pool Pup Stairs is made from stainless steel and plastic, making it durable, corrosion-proof and rustproof. You can attach it outdoors for days without worrying about it because it can withstand any type of weather condition and will last you for years.
These pool steps for dogs require very little maintenance and upkeep. If you use it in saltwater, all you have to do is rinse it off with fresh water before storing it.
Overall, this one has a user-friendly design that prevents severe injuries and strains.
Works great on smaller dogs with small paws
Can handle heavy canines with some improvement
Removes easily from the pool for off-season storage
Can be folded to take up minimal space during storage
Safety features like slip resistance and ribbed design
Small paw-friendly with no holes
Made of chemical resistant, weather-resistant, and UV resistant plastic
The width of the steps may not be big enough for large dog breeds
Is not compatible with all boat ladders. Requires a separate extension for boat ladders that are wider
Complicated installation
Skamper Ramp: Super-Skamper Ramp
If you have an anxious dog, the Super Skamper Ramp is a perfect pick. It has easily visible escape routes for animals to spot when they accidentally fall into the water.
This is also versatile enough to be installed on the docks or as a canine boat ramp. Although you will have to tweak the installation mechanism a little, once it is installed, your dogs will find it very helpful.
This ramp is suitable both for small pups as well as large dogs.
The ramp is white in color, which makes it easy for your pooch to spot whenever they find themselves in need of an escape route. It may be widely recommended for injured or old dogs, but it is also just as suitable for young pups because when a canine panics, it becomes difficult for them to find escapes routes easily.
The entire installation process is pretty quick and straightforward. You don't need to screw any nuts, strips, or bolts. You simply have to snap together all of the parts by lining up the locking features.
However, to fasten it to the pool, you are going to need the screws that are specific to your deck or pool type. You can easily get these from the local hardware store.
The ramp is made of polyethylene, which gives it a pretty high weight to strength ratio. This means it can carry heavy loads, although it may be light.
Easy to assemble and can be flipped back when not in use
Long-lasting and durable
Safe and secure, does not budge after it is secured tightly with a rope
Easy to transport and carry as it is lightweight
Does not require a lot of storage space after removing extension panel
Not ideal for large size dogs as it sags under extra weight
Large size hole for gripping, making it difficult for small breeds and puppies to use. Will need to be improvised
WaterDog Adventure Wag Boarding Gear Steps for Pools Above Ground
These pool steps for dogs were manufactured specifically for canines and is not suitable for kids even though it may look like it.
It has 6 steps, each measuring 4 inches high between each step. It is also set at a 45-degree angle for safety and convenience. It is perforated to allow water to pass through and give traction to enable a stable and secure footing.
This ramp has a 24-inch vertical rise from top to bottom. You can use it on platforms with 12-inch water depth or less.
Don't worry about the ramp damaging the liner of your pool as it is not in contact with either the bottom or the sides of the swimming pool.
You can pivot this ramp out of the water whenever it is not in use, so that leaves for pool space and prevents accidents bumping on the edges. It is made in the US and employs stainless steel hardware and engineered plastics.
This dog pool ramp is very strong and can handle up to 130-pound canines. This may tempt a lot of parents to let their tots use it, but it is not safe for human use as it lacks handrails for safety.
4-inch high steps give ample distance between the water and boat, ensuring easy access from deep pools
Step surface is slip-resistant to ensure better footing
Comes with a toe plate in each step to prevent paw sliding accidents
Open top without barrier between boat and steps
Steps are made from polyethylene closed-cell foam to make it stay afloat if it gets dislodged from the boat
Cannot be installed on all boats – check fitting requirements
Lacks a platform for shaking off excess water
Needs a lot of set up compared to other models
A little expensive